We believe we are one of the leading worldwide providers of bio-resonance tests.
Our hair testing lab facilities, use the MARS III (Multiple Analytical Resonance Systems) to perform our non-invasive tests, and we have carried out over 400,000 tests worldwide. Results are delivered within 7 days.
Bio-resonance technology has been around for 50 years and is widely used in practices throughout Europe, Scandinavia, and China.
About the test
We'll carry out the test on your hair sample against 970 food and non-food items. Any item showing a frequency of over 85% is identified as a probable match.
Our equipment
Manufacturer: Bruce Copen Laboratories
Instrument: MARS III (Multiple Analytical Resonance Systems)

Bio-resonance screening
We will test your hair sample against 970 food and non-food items.
Full results reporting
A comprehensive report on trigger items over 85% response rate.
Free qualified consultative advice
Nutrition support by email free of charge.
Satisfaction guarantee
We support our hair tests with a 100% money-back guarantee.
Your comprehensive report
---
Within just 7 days of testing we'll email you an easy-to-understand report covering:
Four pages of clear informative results
Sections cover what allergens our test has highlighted as possible intolerance
Your percentage of sensitivity to each potential catalyst
Your report will provide you with information of highlighted items to avoid by suggesting the elimination of specific foodstuffs or avoiding aggravating items such as dust or pollen in your surroundings.
Testing for intolerances using Bioresonance
---
Bioresonance testing uses the information from a living organism, which stores a resonance or energy. We use hair samples to read this resonance frequency using a MARS III (Multiple Analytical Resonance Systems). These frequencies are compared to the frequencies of all the items tested for; food items, non-food items, vitamins, minerals, metals, enzymes and bacteria, in order to establish their levels in the body and any imbalance.
The same equipment that is used for our bioresonance hair testing is used throughout the world including by Chinese hospitals, the Russian Space project and over 7000 practitioners in Germany, Austria and Switzerland. Bioresonance therapy is used by professional sports teams and Olympic teams alike to understand issues not always picked up by conventional medicine.
Our labs are overseen and monitored by qualified lab managers and follow good laboratory practice.
Hair testing is classed as a Complementary and alternative medicine
---
Bioresonance therapy and testing is categorised as a complementary and alternative medicine (CAM). CAMs cover a wide range of therapies that fall outside mainstream medicine, but can become part of an overall healthcare plan.
A complementary therapy is used alongside mainstream medicine, whilst alternative therapies are used in place of conventional medicine or treatment.
Therapies and practices, which are considered complementary and alternative medicine (CAM) are:
Aromatherapy
Acupuncture
Homeopathy
Naturopathy
Osteopathy
4 simple steps to fast results

ORDER
Order the right test for you securely online.

CONFIRMATION
Confirmation and instructions are emailed or kit sent*.

SEND
Send your sample to our ISO-certified facilities.

STEP 4.
Receive your results within 7 days from sample received.
Take the next step to relieving your symptoms.
Order your test today…
STEP 1.
Select the test to suit your own or family's needs and order online.
STEP 2.
Look out for your order confirmation by email. Download your sample form.
STEP 3.
Complete the form and pop it in the post with a sample of hair.
STEP 4.
We'll send you the results in a clear comprehensive four page report.
ALLERGY & FOOD INTOLERANCE TESTS
Clinically validated Allergy & Food Intolerance tests using a small blood spot sample to analyse IgE & IgG4 antibody reactions.
These tests help you to understand possible allergy or food intolerance causes.

'Voted Best Overall Blood Allergy Test by Verywell Health'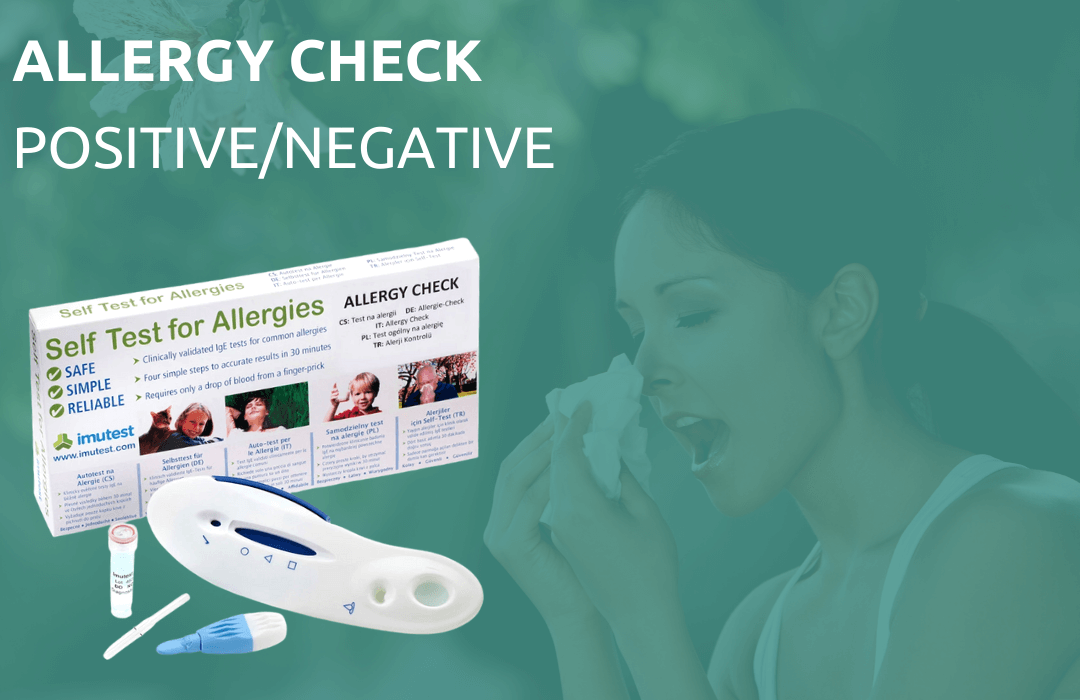 WAS £29 NOW £23

SAVE £6

A rapid at-home indicator of Allergies (IgE) to use as a first step investigation.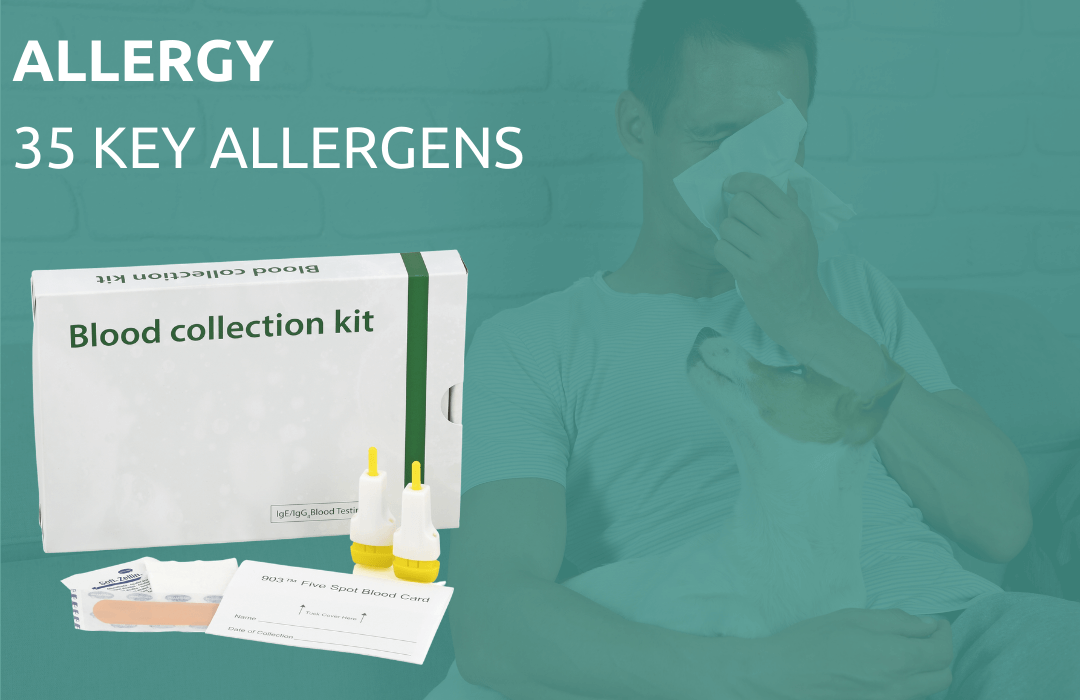 WAS £99 NOW £69

SAVE £30

Home-to-lab Allergy (IgE) test of 35 food and environmental triggers.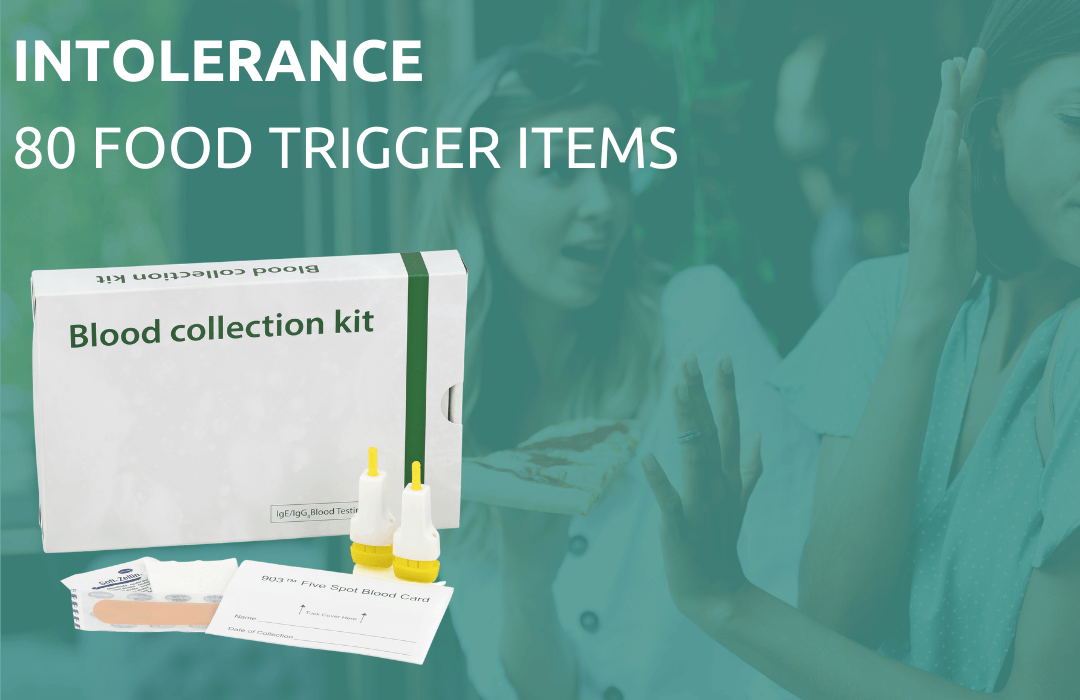 WAS £119 NOW £89

SAVE £30

Home-to-lab Intolerance (IgG4) test of 80 common food and drink triggers.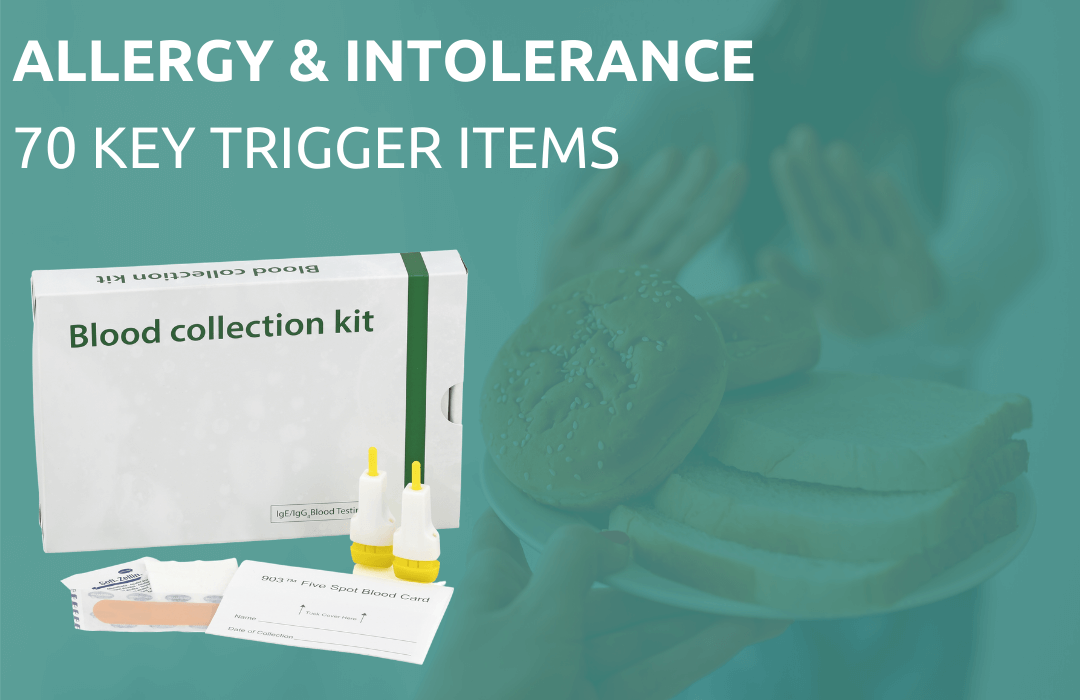 WAS £149 NOW £115

SAVE £34

A full screen of 70 combined Allergy (IgE) & Intolerance (IgG4) triggers.
SENSITIVITY TESTS
Non-invasive biofeedback tests using a small hair sample to test 970+ Foods, inhalants, vitamins and minerals.
Join 250,000+ people and receive guidance on your sensitivity triggers and overall body health.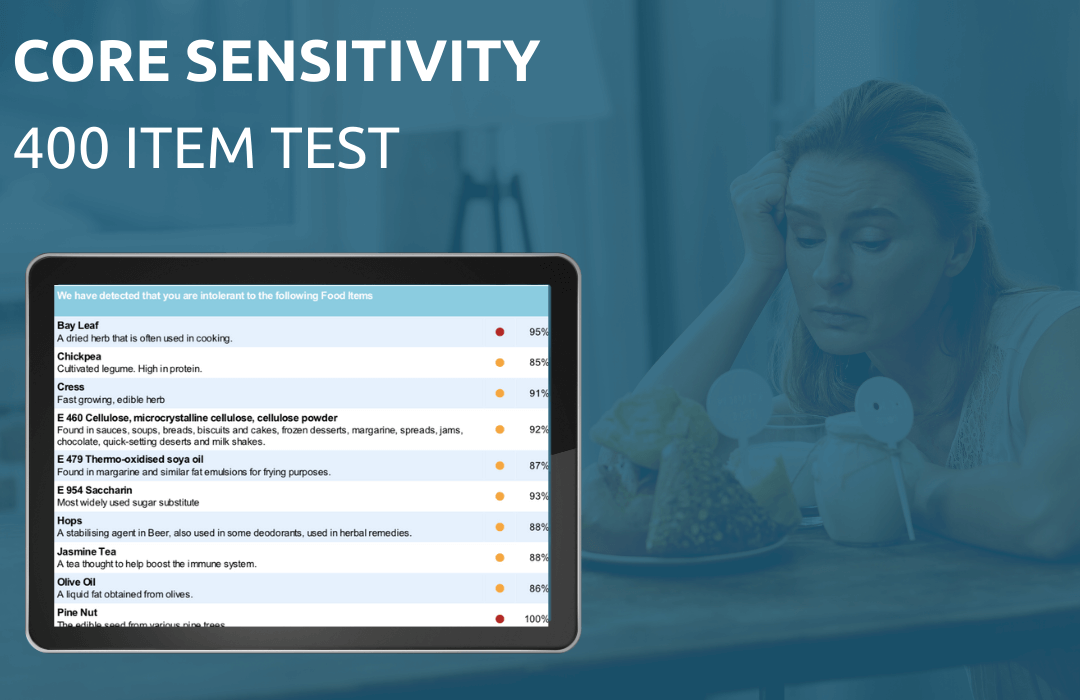 WAS £45 NOW £25

SAVE £20

A first step to learning more about your sensitivities with this test.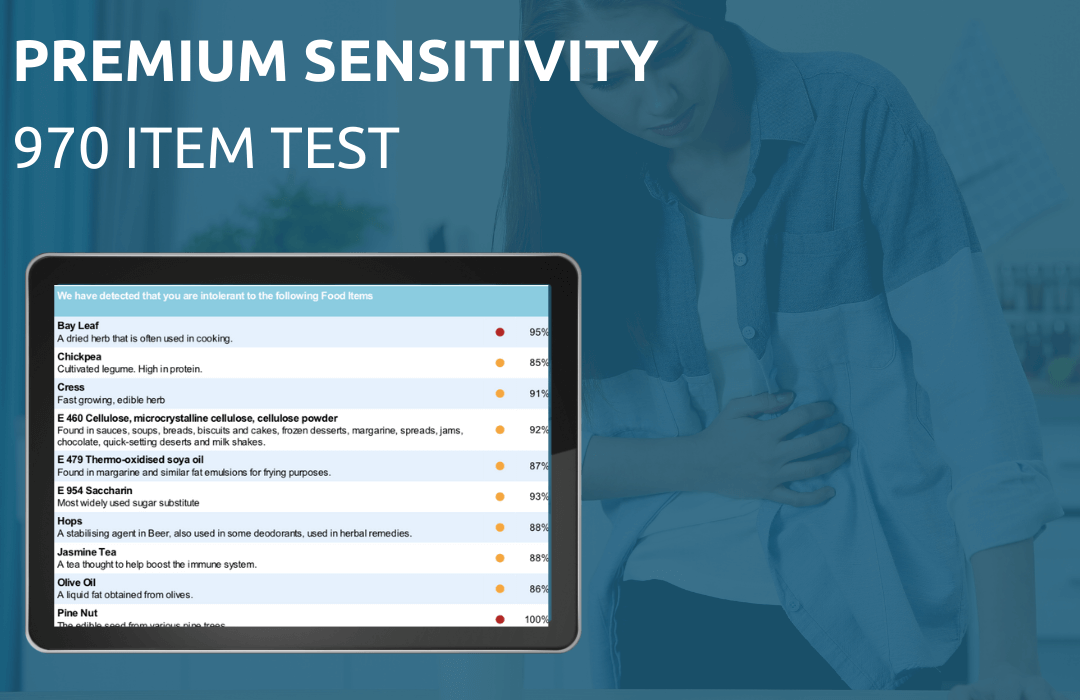 WAS £79 NOW £35

SAVE £44

970+ item comprehensive sensitivity and health test report.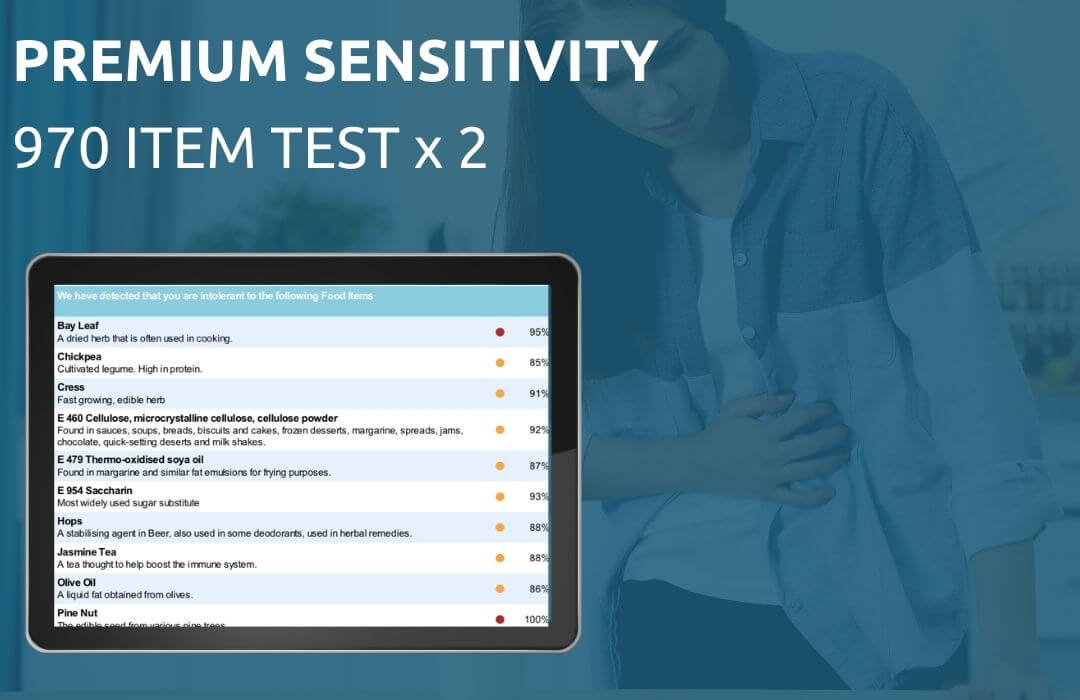 WAS £99 NOW £59

SAVE £40

Make savings for two people on our most comprehensive test.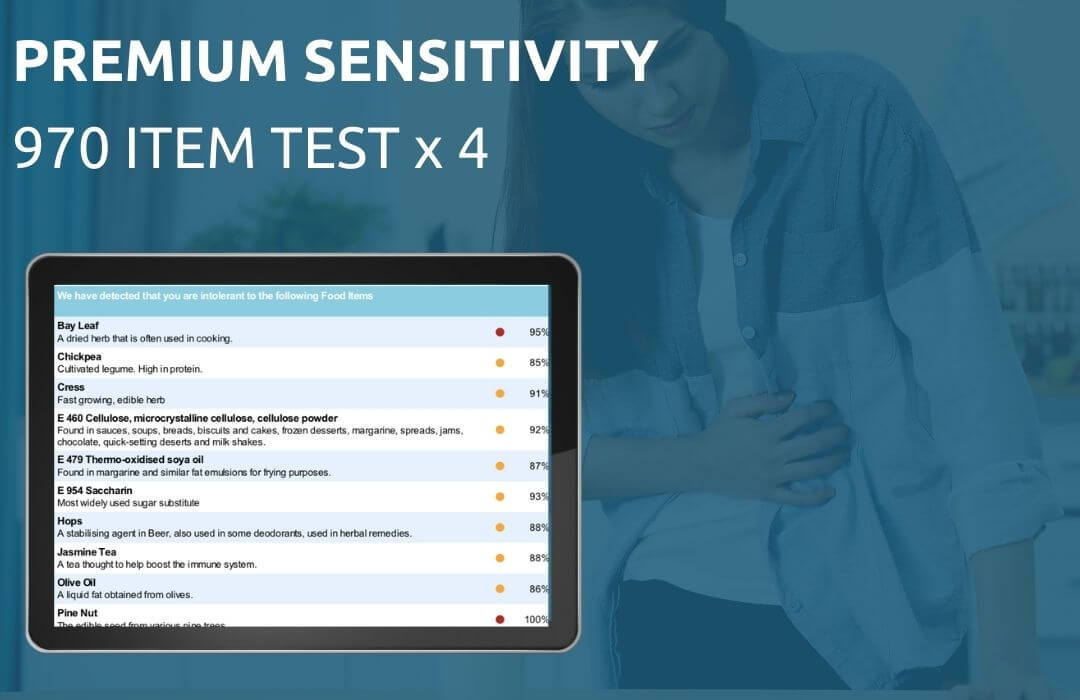 WAS £165 NOW £99

SAVE £66

Our best saving package for four people on largest screening of items.
What happens after I receive my results?
Once you have received your report, the first step is to try eliminating the suggested catalysts from your diet.
We provide FREE support on:
Embarking and gaining progress on an elimination diet
Get results with our tests!
Complete satisfaction guaranteed.
We provide 100% money back in the unlikely event you are not satisfied with your hair sample test. If you don't see improvements in your overall health after following an elimination diet, we've got you covered! *Terms and conditions apply